Newsletter #2: Picking up speed – The Python Brochure Team at EuroPython
The anchor is hoisted, the sails are set and our "Python Brochure Project" is cruising the sea of Python.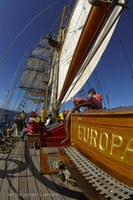 The PSF Python brochure team gathers way!
We heard of some very exciting projects out there on the seven seas of programming. And we found our first ad sponsors.
But we are still in coastal waters and need your help to get offshore. If you know of any Python project which might fit into the brochure, please contact us.
What projects are we looking for?
For the brochure we want to present case studies that demonstrate how well Python can be used to implement and run real-life use cases in business, science, industry, education, media, government, public sector and charity. Topics that are interesting to people without having to know a lot about computers or programming.
For more details, please have a look at our newsletter #1.

Meet us in Florence
Members of the PSF Python brochure team will visit the Europython in Florence. We are happy to talk to you about the python brochure.
Please get in contact and share your experience with us. Our EuroPython 2011 Special lists the crew members who will take a shore leave in Italy.